IoT Training at your School for your Students & Faculties
---
"If you think that the internet has changed your life, think again. The IoT is about to change it all over again!"
A Training in progress by Nikhil for School children in Thimpu, Bhutan
What is IoT?
IoT is THE huge change happening to the technology industry and if your career is related to software, you simply cannot afford to ignore this. The Internet of Things (IoT) is a system of interrelated computing devices, mechanical and digital machines, objects, animals or people that are provided with unique identifiers and the ability to transfer data over a network without requiring human-to-human or human-to-computer interaction. IoT has evolved from the convergence of wireless technologies, micro-electromechanical systems (MEMS), micro services and the internet. The convergence has helped tear down the silo walls between operational technology (OT) and information technology (IT), allowing unstructured machine-generated data to be analyzed for insights that will drive improvements.
Benefits of IoT Course
The trainees develops strong understanding of IoT
The students and faculties improve their confidence by learning topics usually learned by professionals
The trainee is able to design and deploy several IoT systems on his own
Prepared for the future and gets increased skill set for better jobs
Your faculty members feel highly motivated by learning the latest technlogy which even professionals are mission out on.
Course Details:
IoT Syllabus - 1
Understanding the Internet of Things (IoT)
Basics of Programming Required
Electronics - Understanding Resistors, Capacitors, Transistors, Relays etc
Using a Breadboard & components
Introduction to Arduino
Setting Up Arduino Software
Blinking of LEDs, Fading of LEDs
Circling of LEDs, LED Dice
Making a Traffic Light System



IoT Syllabus - 2

Serial Monitoring, Reading Analog and Digital Inputs
Controlling LEDs using Push buttons
Switching on a Relay, Using a DC Motor
Connecting a LCD Screen with Arduino
Sensors and Integration with Arduino
Creating Web APIs and using ESP8266
Uploading sensor data to cloud
IoT Syllabus - 3
Actuators, Servo Motors, Robotics
Creating Web & Mobile IoT Interfaces
Full Project: Smart Public Notification System
Full Project 2: Home/Industrial Automation
+ Choose your own projects, Plus a lot more
Project::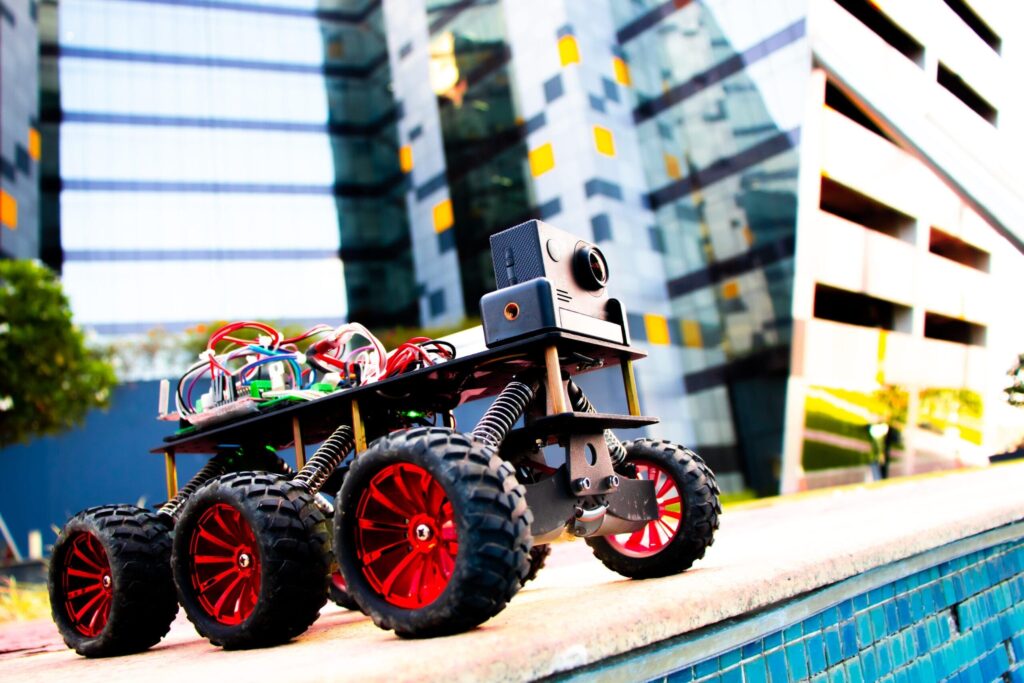 Strictly, no one can limit IoT into a course since it is evolutionary and keeps improving. No one can make a syllabus and claim it is comprehensive. As such, we have a very flexible syllabus, and we keep adding new topics as well as we include related topics suggested by each batch.
About the Trainer.
Nikhil Narayan, the founder of IPEG Solutions has 12+ years experience in developing and training in different software technologies. He simply Loves to teach, and is famous as the best Trainer for programming in Eastern India. He was the first to have started PHP training in India, back in 2004 and the First to have started Android Training in india, back in 2009. He regularly provides corporate trainings on Web and Mobile technologies to several software companies, as well as educational organizations. Through years of research, he has devised a special technique of training that uses secret methods to bring out the hidden capabilities of a student and optimize his performance.
ONSITE TRAINING PRICING
Course Eligibility: This course is designed for both students and faculties having a minimum knowledge of C Programming.
Location: Classes will be taken at your college premises.
Request a training: Please email us at ipeg.solutions@gmail.com with the subject line as "Request for IoT Training at YOUR_COLLEGE_NAME".

We have three course options:
Tens of Thousands of students have been trained by Nikhil Narayan. Most of the people say that he is the best trainer they have even seen in their lives.